Equip
Four Simple Steps to Start Streaming Worship
Easy and practical steps on how you can start live streaming and share your worship services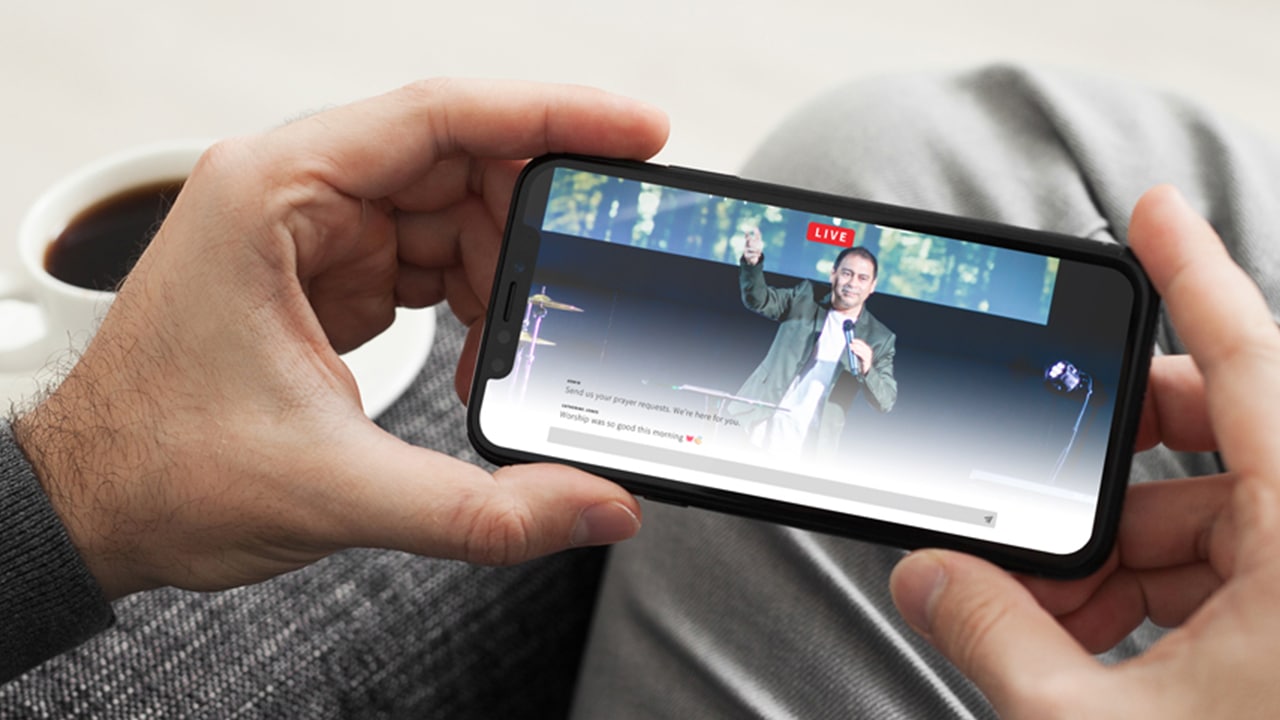 As churches around the world are reinventing how they worship, many are switching to streaming services online. Is this something your church is ready to implement but don't know where to start? We've got four practical steps to help ensure your church's first experience with streaming goes as smoothly as possible.
Plan. Much like you would plan your normal service, set list, and sermon components, it is helpful to think through and plan the details of your online service before you even start recording or streaming. The video that you stream will possibly remain on YouTube or Facebook and is an excellent library of content not only for your congregation to watch during a stream but for others in your online community to view in the future. With a little pre-planning, you can provide a better streaming experience. Try and plan something that you would enjoy experiencing on the receiving end of the live stream.


All you need is your smartphone. Streaming your services does not have to expensive or complicated, and with some simple planning, you can get started with just your smartphone camera! You can find many tutorials on YouTube that show you step by step how to easily get started. Don't get overwhelmed. Start with what you have and work from there. If your church is ready and equipped for a more advanced streaming solution, check out Sweetwater's helpful article.


Choose your platform. There are many great streaming platforms to choose from. You might already have the app installed on your phone! You can easily stream for free using Facebook or YouTube live, but they won't offer you as much control of your content as a commercial service. Check out streaming platforms like DaCast, Livestream, and Wowza. These platforms vary quite a bit, some specializing in security while others offer more or less online storage. Take your time and do your homework to help identify what platform is right for your church.


Set yourself up for success. Plan ahead, be creative and be intentional. There is nothing worse than shaky video, so use a tripod or set your phone or camera on a table. You might want to consider using lighting if your space does not have much natural lighting. Spend some time and pick a place that is quiet, and that the background is nice looking but not distracting. Make sure the camera is not to close or too far away, find the middle ground that looks nice but also sounds good. Record in a quiet space, so the audio is the best possible quality and clarity. Use a microphone to make the audio sound better. Do some testing, record a bit, and watch it back and get a second and third opinion on the look, feel, and sound.
The transition to an online-only church platform can seem daunting. But by utilizing the talents and resources that already exist within your congregation and community – it doesn't have to be. While this is a difficult time for churches, we stand strong in our mission to empower worship by providing affordable and legal content, resources and media.
---
CCLI recognises that churches have had to adapt quickly in how they connect with their congregation, and remains committed to assist in these ever changing times. CCLI's Streaming License helps you navigate and stay compliant with your countries copyright laws.